MAKING A REMBRANDT OF MEMORIES, where your heirloom joins the world of Modern Arts.
"CHIVALRY 101" (Squire George' Sword)The artifact is a life size replica of Squire George of England. The heirloom was left in an estate that requested our services. It, as with all art images is crucial to the presentation. Never before done as a complete composite.
It is a part of the Parallax effect for the 4D presentation. (A dM Digital Motifs exclusive copyright/Trademark).  

The sword lays on the mantle and Art piece above. The family legacy begins. Viewers will want to know the story.

We offer services as your personal Virtuoso. Digital Motifs considers itself to be the creative artist as an afterthought. Call 253-325-3619
What you're about to witness is a radical experience where Science merges with Art and marries up with Math. A revolutionary concept in interior design and to the art world.
Most items in the catalog are custom framed, each composite can be purchased as prints for a fraction of the cost. (Archive photo or linen prints)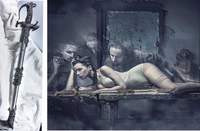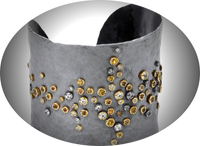 Safety Deposit Box
A lovely bracelet. This $10,000.00 beauty deserves to be seen.  Surely, something like this cannot be worn daily, however, Digital Motifs can place it on your wall. Have a cup of coffee and enjoy the view.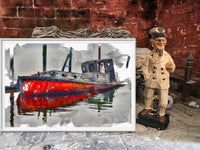 "The Old Man and His Sea"
An artifact bought while in Europe now embraces your nautical decor'. The wooden carving tells a story. The old man becomes an art piece as he subliminally views you from the red vessel. What a vintage piece…
The catalog contains a mixture of framed art as well as limited print editions. (Most can be prints up to 30x36)

Welcome, and enjoy your tour of our website.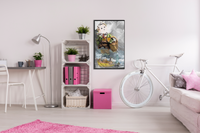 Nana's Hummel(TM), a legacy…
"I remember Nana's tears when she told stories of the olden days".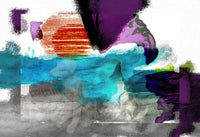 Purple Reign
Our work is so unique that art enthusiasts are captured by the bold colors, and the integration of hues, long before they learn of Digital Motifs' purpose. I enjoyed using mixed art styles to achieve the parallax effect for this piece. Certainly, you can see where purple reigns.
From across the room and as you walk in, the origami ceramic dog is not initially noticed.  This is the triangulation of vision. And so the story begins. . .
The Parallax Effect: Mirror
In this particular presentation, our art work hangs above the mantle. If one looks closely, you'll notice the artifact sits on top of the mantle. Our clients have written numerous letters of their onlooker's amazed responses.
Families gather around an heirloom during the holidays and exchange tales and memories of loves ones. The younger generation inherits a legacy.
(We have developed four unique parallax placement paradigms. Email us to get specifics on how to send a jpeg of your artifact to be turned into a 'Picasso'. . .)
AVANTE GARDE: Parallax Art Presentations
S.T.E.M. as an art presentation? A truly revolutionary concept in multimedia art. It is designed to create an illusion of a forth dimension to an art presentation through the use of its subject, the artifact. At Digital Motifs, we note it as a creative design through the vision of the parallax (placement) through perspective viewing. In science this phenomenon is termed as a displacement along a triangular plane.
This holds true in the scientific and mathematical world, and now theoretically, is applicable to the placement of objects in artistic compilations. The placement of the artifact is essentional for this to happen.(PAP exclusive rights/Trademark)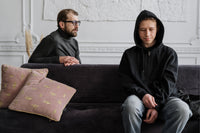 "I just didn't see it coming . . ."
What's your Legacy? EMAIL:nvisions111@gmail.com (TEXT 253-325-3619)